10 Books Every Christian Should Read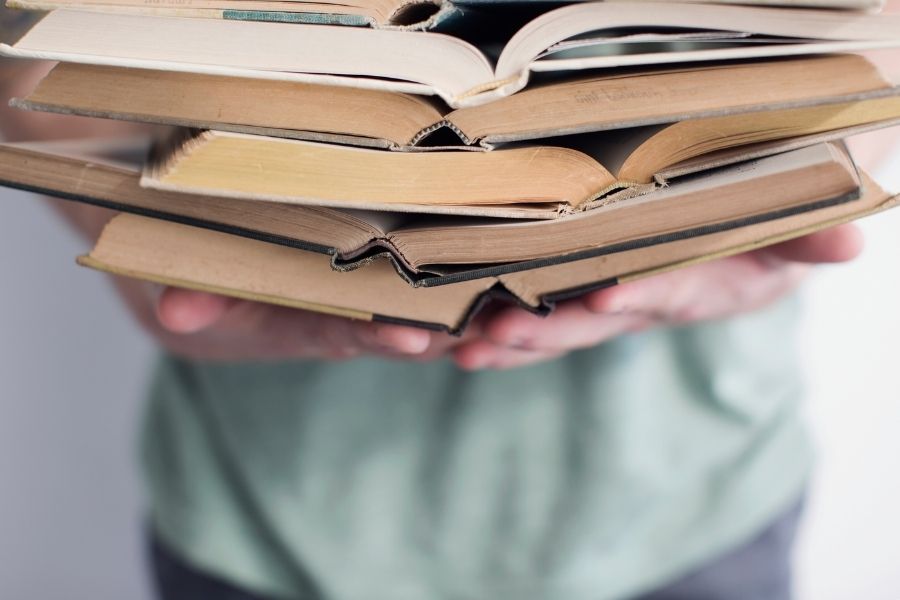 Christian book choices can be a bit overwhelming with all the options available to us. Whether you're buying them online or in a Christian bookstore, you'd like to make wise decisions and spend your time reading books that are solid theologically.
I'm sharing ten books with you that have impacted me in my walk with Christ, grown me in theological understanding of major doctrines, and taught me how to love God's Word (plus ten more bonus books I listed at the end because it was hard to stop at ten). If you're wondering how to find time to read more books, I have some tips for you here.
Sharing ten Christian books that have impacted me in my walk with Christ
My short book list here is not exhaustive but just a place to find a good, solid read to encourage you in your walk with Jesus. If you'd like to see some of my other book recommendations, you can do that here. So without taking any more of your time here, they are:
My Top Ten Christian Book Recommendations:
Trusting God by Jerry Bridges: A helpful read for me in understanding the sovereignity of God.
The Holiness of God by R.C. Sproul – Wondering what it means to fear the Lord? Read this one more than once in your walk as a Christian.
Living by the Book by Howard Hendricks: If you've been wanting to learn or begin studying God's Word on your own this book and workbook are a great place to start. Recommended to me years ago by a mentor and I still find myself re-visiting the book often.
The Rare Jewel of Christian Contentment by Jeremiah Burroughs: There are many books out on Christian contentment but you will not go wrong in reading this classic read.
A Praying Life by Paul Miller: One of my favorites on prayer, super grace-filled and encouraging, and as I'm listing it here it's going back on my "to read" pile. It inspired this podcast.
The Gospel and Personal Evangelism by Mark Dever: This book is one of the most practical and helpful reads to get you to share your faith with others. A great one to read with a small group.
The Pilgrim's Progress by John Bunyan: A classic every believer should read. This is an original text copy below but I enjoyed reading this version in Modern English with notes by Warren Wiersbe too.
Through the Gates of Splendor by Elisabeth Elliot: If you spend any time with me here you know Mrs. Elliot was going to make the list. I believe this incredible story of trusting God is a biography everyone should read.
Spiritual Disciplines or the Christian Life by Donald Whitney: A friend gave me this book when I was a young believer and it put my foot on the right path to embrace the means of grace in my walk with the Lord. If you've listened to my series on the Spiritual Disciplines you know this book is one I highly recommend should be in every Christian home.
What is the Gospel? by Greg Gilbert: Need a deeper, clearer understanding of the gospel? This book will help you to formulate a clear biblical understanding of the most important truth we need to grasp as believers. A good one to read, re-read and even pass along to believer and non-believer.
---
Plus Ten More Honorable Mentions:
The Discipline of Grace by Jerry Bridges
Do More Better: A Practical Guide to Productivity by Tim Challies
When Sinners Say I Do: Discovering the Power of the Gospel for Marriage by Dave Harvey
Shepherding a Child's Heart by Tedd Tripp
Chosen by God by R.C. Sproul
Knowing God by J.I. Packer
Heaven by Randy Alcorn
Systematic Theology: An Introduction to Biblical Doctrine by Wayne Grudem
The Gospel Primer for Christians by Milton Vincent
The Valley of Vision a Collection of Puritan Prayers & Devotions
---
What would you add to this list?
What books have most impacted you in your walk with Christ?
---