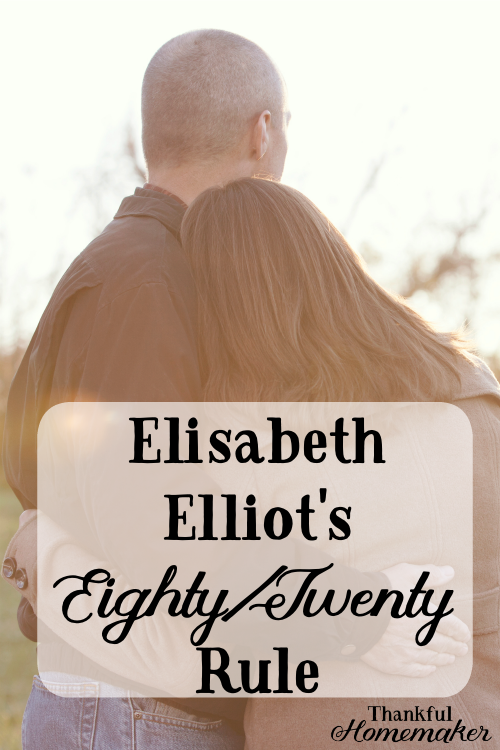 We are already a month into the new year, and one of the yearly habits I've developed is working through the Revive Our Hearts 30 Day Husband Encouragement Challenge. Instead of doing it alone this year, I'm working through it with the Thankful Homemaker Facebook group. We're taking one challenge a day to help us to become better encouragers of our husbands. This is a great challenge to do with a friend too.
So many times as wives we can get focused more on what our husbands are doing wrong (in our own eyes many times) instead of focusing our hearts on what they are doing right.
We can find ourselves asking: How can I do this challenge when all I see are his faults? If this is your heart attitude, I'm going to call you to repent and ask the Lord to change your heart and mind. You loved and married this man and saw many wonderful traits in him.
Day 10 of the 30-Day Husband Encouragement Challenge was reminding us we chose this man and when we find our hearts becoming critical it can be too easy to forget all those wonderful traits that drew us to our husband in the first place:
"Count the ways you love him—then tell him.

Does your husband know that you think he is attractive? What was one of the characteristics in your husband that first drew you to him? Was it a physical characteristic or something else? Was it his gentle, compassionate eyes? Kindness or concern for others? An easygoing confidence? A steadiness that comes from trusting in the Lord? Strength of character in a culture that lacks integrity? Do you see at least a glimpse of that characteristic in him today? Whatever it is, tell him! If you still have any of your old love letters, re-read them for clues to deepen your current level of appreciation for your spouse."
~ Above quote taken from day 10 of the 30-Day Husband Encouragement Challenge
The 80/20 Rule:
Elisabeth Elliot who has mentored me through her books and messages shared in one of her books a challenge presented by her husband, Lars Gren:
"A wife, if she is very generous, may allow that her husband lives up to perhaps eighty percent of her expectations. There is always the other twenty percent that she would like to change, and she may chip away at it for the whole of their married life without reducing it by very much. She may, on the other hand, simply decide to enjoy the eighty percent, and both of them will be happy."
Let no corrupting talk come out of your mouths, but only such as is good for building up, as fits the occasion, that it may give grace to those who hear.

Ephesians 4:29
Read that verse above, Ephesians 4:29 again, and I do believe we would see less Christian marriages fail and all our relationships would significantly benefit if we applied it.
Ephesians 4:29 is a Bible verse to hide in your heart so you won't sin against the Lord and others (Psalm 119:11).
We can find ourselves much more easily drawn to keeping our eyes on those things we think or see our husband's doing wrong, rather than what they are doing right. What other relationships can you find yourself benefiting from the 80/20 rule? Children, friends, church family? We've been given much grace; we can offer much grace.
We've given much grace; we can offer much grace.
Remembering the Gospel:
My husband reminds me: We who deserve 0% seem to have no complaints when God gives us 100%. If we're in Christ, we have received 100% of Jesus, and we deserved 0%. This is the Gospel and why we need to apply it to all of life. This is why we need to Preach the Gospel to Ourselves because we are a forgetful people.
Pray and ask the Lord to help you ladies, because maybe your husband doesn't need to change, but perhaps you need to change in your attitude and responses. The Lord is sanctifying you in and through your marriage.
So then let us pursue what makes for peace and for mutual upbuilding.

Romans 14:19
I'm thankful the Lord doesn't deal with every sinful area of my life at the same time. I'm so grateful for His kindness towards me to change me with the loving hand of a kind, gentle and patient Father (Romans 2:4).
The Log in Our Eye:
We all have different ways of doing things and just the reminder that different isn't necessarily wrong, it's just different. Your way of doing things isn't necessarily the only right way.
This isn't to say that there aren't sinful areas that might need to be dealt with, but it's looking at the everyday moments and seeing them in light of eternity. Ask yourself these questions: Will it matter tomorrow? In a week? A month? A year? Ten years? We can make much out of nothing, and there are many times we can just let things go and show love and grace as we've been shown.
The 20% you're seeing in your husband you think needs dealt with is not outside of God's sovereign control. Trust Him dear sister; there is hope.
The more we begin to focus on the 80% our husbands are doing right, the less we will see the 20% that we think needs to change.
The more we begin to focus on the 80% our husbands are doing right, the less we will see the 20% that we think needs to change.
Make sure to take the log out of your own eye before you remove that speck from someone else's.
Encouraging Our Husbands:
The quote above from Elisabeth Elliot is such a reminder for us to be our husband's number one encourager on this earth. You are the one relationship he desires this from the most.
Enjoy all the wonderful things you do love about him, and you will find both of you will be very happy together.
Prayer from Day 10 of the Challenge: Lord Jesus, I confess that it is often easier to criticize than admire. Please forgive my critical spirit and free me to remember all the things that nudged me to choose my husband in the first place. Remind me of things I've forgotten, and even point out things I've been blind to. Loosen my tongue to speak words of admiration and renew in me a deep, passionate love for my husband.
How can you change the way you view your husband today? Will you ask the Lord to help you?
Will you take the challenge with us? (30 Day Challenge Here, Printable PDF of it here & Thankful Homemaker Facebook Group Here.)
Everything, if given to God, can become your gateway to joy.

~ Elisabeth Elliot
Related Resources:
Elisabeth Elliot Messages on Blue Letter Bible
Elisabeth Elliot Radio Broadcast
Focusing on Our Spouse's Strengths at Revive Our Hearts
A Few of My Personal Favorite Elisabeth Elliot Books:
Discipline: The Glad Surrender,