Introducing the Christian Homemaking Community & An Ice Cream Maker Giveaway!

Pssst: Enter to win an Ice Cream Maker bundle (Worth $120+) below!!
Community: a feeling of fellowship with others, as a result of sharing common attitudes, interests, and goals.
As women, and as Christians, we are called to be in constant community with one another. We are to be in fellowship with other women, always growing, always learning, always serving. As homemaker's and Christian women, we should be striving to exemplify the Titus 2 model:
"Older women likewise are to be reverent in behavior, not slanderers or slaves to much wine. They are to teach what is good, and so train the young women to love their husbands and children, 5 to be self-controlled, pure, working at home, kind, and submissive to their own husbands, that the word of God may not be reviled." ~ Titus 2: 3 – 4
Introducing the Christian Homemaking Community
As a blogger, one of my main goals is to connect with other women. I love that I can hop online and find other like-minded Christian women that I can learn from and grow with! So I'm very excited to share that we are introducing an all new Christian Homemaking Community on Facebook!
21 bloggers have come together to create a place where we can chat, learn from each other, grow, and find fellowship among other Christian Homemakers. You can request to join our private Facebook group HERE.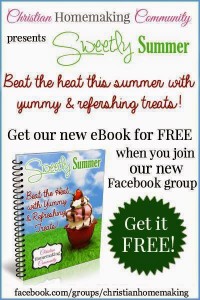 You will also get to connect and chat with your favorite homemaking bloggers including:
Why Join Our New Community?
Each week you will have access to all the latest posts, articles, videos, and discussions from all your favorite homemaking bloggers! No more having to hunt through Pinterest or Facebook for good things to read. You will find encouragement, motivation, tips, recipes, photos, and more!
Come on over and jump into daily discussions such as what is the best way to clean out your fridge, how to do freezer cooking, favorite recipes, and more! You will also have exclusive homemaking content not available anywhere else – and the best part? It's totally and completely FREE! Join our Facebook group here: The Christian Homemaking Community.
Our Free Gift To You
In celebration of launching our new community, and as our free gift to you , the 21 homemaking bloggers have come together to offer you an amazing eBook: Sweetly Summer ~ Beat the Heat with Yummy and Refreshing Treats – totally FREE! Just join our private Facebook group and you will get instant access!
You will get instant access to some amazing summer treats including: ice cream recipes, how to make whip cream, smoothie recipes, yummy sides, energizing snacks, sweet treats and more!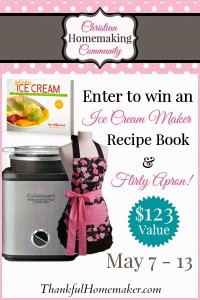 Enter to win an Ice Cream Maker
Also in celebration of our new community, we are giving one lucky winner the chance to win an amazing Ice Cream Maker ($80), adorable apron (style and color of your choice – $35), and the Just Making Ice Cream recipe eBook ($12)! This entire bundle is worth more than $120!! Enter to win via the rafflecopter form below. Sharing is easy with the share buttons at the bottom of the post.