REVISED! 31 Days to Clean – Having a Martha House the Mary Way by Sarah Mae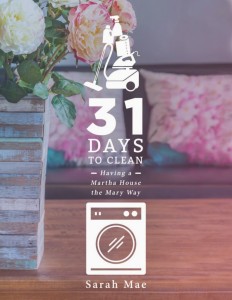 "This book is about the 'why' and the vision and the heart for taking care of our domains."
~ Sarah Mae
When Sarah Mae came out with her revised edition of 31 Days to Clean – Having a Martha House the Mary Way, I jumped on the opportunity to review it. I am a Martha at heart. I like to get things done. My continued prayer to the Lord is to help me have a good balance of my responsibilities in light of sitting at His feet and tending to the hearts of those He has entrusted into my care.
It is a daily battle to the busy schedules of moms. We have dishes to do, laundry piles, homes to clean, meals to make and plan and the list goes on and on. We also need to take time to sit at the feet of Jesus, we have husbands and children to love, friends to spend time with and ministry opportunities as we go about our days.
It can begin to overwhelm us but doesn't need to. The Lord will equip us to take care of the responsibilities He has laid before us and we need to be reminded to depend on Him. The problem comes when we try to do it in our own strength.


"This book is for everyone out there who needs to know that being a good homemaker has less to do with having a clean home and more to do with loving others well."
~ Sarah Mae
So balance, we all desire balance and order in our lives. The format of 31 Days to Clean is simple and each day is laid out with an encouraging, inspirational reading, Mary challenge and a Martha challenge. There are some bonus tips and some days to get your kids involved too!
"The heart of our home is not in the ability to keep it perfect at all costs; the heart of a home is love. We live in a thing, a non-eternal structure that needs to be maintained. The thing is worthless without the life we bring to it and through it. This book is about bringing life the mundane in order to love well."
~ Sarah Mae
The Table of Contents
Foreword by Logan Wolfram
Kind Homemaking: An Introduction to the Revised Edition with Original Introduction
What Does it Mean to Have a Martha House the Mary Way?
Day 2: Created to Give Life
Day 3: 10 Ways to Give Life to Your Home
Day 6: Overcoming the Curse
Day 7: The Importance of a Plan
Day 8: Developing a Workable Routine
Day 9: Your Cleaning Style
Day 10: Making Your Personality Work For You
Day 12: A Place to Put Your Feet Up
Day 13: Feeling Overwhelmed
Day 15: I'd Rather Do Anything But Clean
Day 16: Finding Joy in the Self-Disciplined Life
Day 18: The Secret to Having Energy
Day 23: To Hire Help or Not to Hire Help
Day 24: The Thing We All Have in Common
Day 25: The High-Low Cycle
Day 27: Becoming Friends with Goodwill
Day 28: Who Are You Trying to Please?
Day 29: What I Would Say to My Younger Self
Day 30: Contentment in the Season of Your Life
Is Messiness a Morality Issue?
10 Ideas For Keeping Your House Clean by Kimberly Rivera
Keeping a Healthy Focus on Balance and Hospitality by Sandy Coughlin
10 Quick Tips for the Decorating Challenged by Logan Wolfram
About the Author
Grab your copy quick because it's only on sale for $.99 this week!!!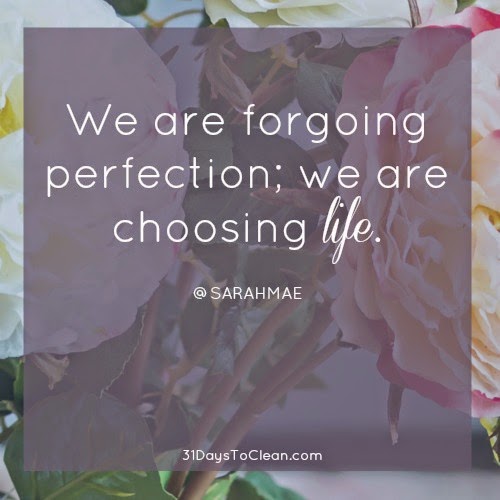 Related Links:

Get updates that are not posted on the blog by visiting Thankful Homemaker's
*There may be affiliate links in this post – please see my full disclosure policy here.