Helping the Younger Women to be Keepers of their Homes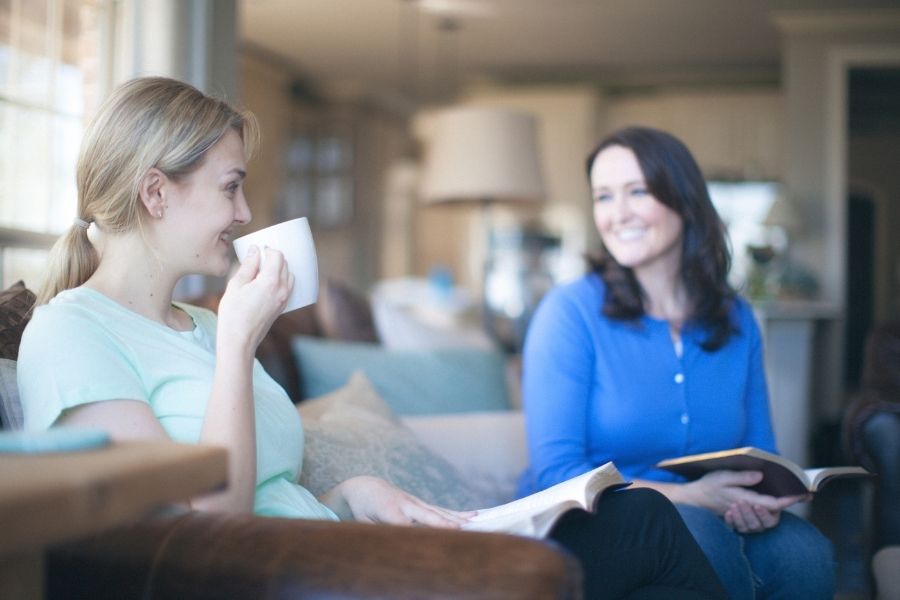 Several years ago when my daughter was married, and we only had my son living at home with us, a Christian friend of mine asked me what I was going to do now that my kids were grown. I didn't hesitate but answered that I was going to continue to live out the Titus 2 mandate. It is just assumed in our culture today that once your kids are grown, you can go out and live your own life. Where is that in Scripture? God's Word calls me to continue in my role in teaching the younger women:
Older women likewise are to be reverent in behavior, not slanderers or slaves to much wine. They are to teach what is good, and so train the young women to love their husbands and children, to be self-controlled, pure, working at home, kind, and submissive to their own husbands, that the word of God may not be reviled.

~ Titus 2:3-5
Since this month we are talking about spring cleaning and organizing, I hoped to share with you how we can help our daughters and other younger women the Lord has put in our lives to manage their homes.
My daughter and I are blessed to have a close relationship and also live in proximity to one another. She is the first on my list of young women to pour into and help when I can be of assistance. Spending time together and pouring into her a love for her home and family is a true joy. Our culture today doesn't encourage our young women to delight in taking care of their family and home.
There is so much theology that takes place when you are cleaning or cooking together. It takes much time, energy, and effort to get your hands dirty and clean the house, make meals, or watch little ones. Serving one another doesn't get any accolades and usually goes unnoticed.
Since I'm in the older women category, I'm speaking to us today. Are you a mother or grandmother that has family close by that you can be a blessing to? Are you an older woman that can minister to the younger women in your church? Can you rearrange your schedule to be a help to these women the Lord has placed in your life? You are not finished with the Lord's work when your children are grown and leave home. You are still called to teach the younger women (Titus 2:3-5).
I love lists and examples, so my easiest way to share what this may look like is to give examples. Some of these ideas are from my own life but also from surveying younger women in our churches on how to help them in being "keepers of their homes."
Living it out:
Help her with scheduling her days. Encourage her, so she is not living day to day in chaos, but there is some semblance of order in her home.
Clean her house for her while she is busy with little ones.
Communication has changed a bit from the phone attached to the wall so utilize Facebook and texting to catch up on how she is doing or sending an encouraging note.
Don't forget to let her know when she is doing something right. Their days are long with little ones, and it can be so refreshing to hear what they are doing right.
Watch her children if she needs some time to get some chores or errands done.
Help with organizing cupboards, closets, laundry, etc.
Just spend time with her in your home so she can learn alongside you. Some of my best homekeeping skills have come from watching others.
Have young families over for dinner. Many times they don't get asked to people's homes because they have little ones—so what a blessing to cook for them and minister to them for an evening. Send them home with the extra food :).
Watch their children while they grocery shop.
Cook them a meal and deliver it. Keep extra food on hand in your freezer to send home when they are over for a visit.
When you're heading to the store, give them a call to see if they need anything.
Keep the kids so mom and dad can have a date night. Having their children for overnight is a special treat. Many young couples today do not live near their parents so being able to get away for an overnight or weekend is a rare event.
If your budget allows, pick up a special gift, book, or kitchen item as a special treat.
Direct them to the Word of God often.
My favorite saying to my daughter is "Do the Next Thing." She says that pops up in her mind often and keeps her going.
Share a skill set they would like to learn – baking bread, canning, sewing, knitting, gardening, etc.
Encourage them to take the time to memorize God's Word. (Psalm 119:11). Ask her specifically how you can pray for her and take time to pray with her when you are together.
Remind them of the importance of their role as a wife and mother as laid out in God's Word.
How can we help and be an example to the younger women He has placed in our lives to be a "worker at home?"
One expression in Titus 2 deserves special notice. It is the word homemakers. The Greek word is oikourgous, which literally means "workers at home." Oikos is the Greek word for "home," and ergon means "work, employment." It suggests that a married woman's first duty is to her own family, in her own household. Managing her own home should be her primary employment, her first task, her most important job, and her true career.

~ John MacArthur
How are you an encouragement to the younger women in fulfilling their calling of being a wife and mother?
Related Resources:
My Top 50 Cleaning Shortcuts